BIOGRAPHY

'Among the singers the casting of CORBY WELCH as Siegmund is a real sensation…'

The American tenor started 2018 with a production of "Die Walküre" as a spectacular SIEGMUND at the Düsseldorf Rhine Opera. Shortly before, he was celebrated as an impressive TANNHÄUSER at the National Opera House Riga, a role he then repeated in a new production at the Weimar National Theater.

Since 2011, Corby Welch has established himself as one of the promising new dramatic tenors singing ERIK in "Der fliegende Holländer" in Düsseldorf, at the Riga National Opera, the Opéra de Wallonie in Liège and the Braunschweig State Theatre, LOHENGRIN in Düsseldorf/Duisburg, Magdeburg and in concerts at the Neuschwanstein Castle or debuting as LOGE in "Das Rheingold" at the Grand Théâtre de Genève.

After completing his studies in Minnesota(USA) and Mannheim(Germany), Corby Welch started his career as a lyric tenor with engagements at the Hamburg State Opera, the Aalto Theater Essen, the Teatro Nacional de São Carlos in Lisbon, in Modena and Ferarra. He performed at the Music Festival Schleswig Holstein, the Rheingau Music Festival, the Schwetzingen Festival and the Ludwigsburg Castle Festival.

Corby Welch was a member of the ensemble at the Deutsche Oper am Rhein Düsseldorf/Duisburg from 2003-2018, where he had the opportunity to develop his repertoire. In the first years he sang major roles of the lyric repertoire such as BELMONTE , TAMINO, DON OTTAVIO, TITO and later the PRINCE in "Rusalka", MATTEO in "Arabella," KAISER in "Frau ohne Schatten," and the title role in PETER GRIMES. Lately, he could be seen as PINKERTON, BACCHUS, the TAMBOURMAJOR, SIEGMUND and ERIK.

Recently he also impressed in the title role of William Bolcom's " McTeague" replacing an ailing Stephen Gould at the Linz Municipal Theatre. In addition he could be heard as Siegmund/Siegfried in the Philharmonie am Gasteig Munich in Loriot's "Ring in one Evening", as PYLADES in Gluck's "Iphigénie en Tauride" at the Hong Kong Arts Festival, as PETER QUINT in "Turn of the Screw" in Taichung, Taiwan, ZEN in Elliot Carter's opera "What Next," with Missa Solemnis and Beethoven's 9th Symphony in the Cologne Philharmonic, and Dvorak's Requiem in Darmstadt.

Concert and operatic engagements have brought Corby Welch to collaborate with conductors such as Ingo Metzmacher, Peter Schreier, Sir Neville Marriner, Wolfgang Sawallisch, Dennis Russell Davies, Marek Janowski, Eije Oue, Michael Schoenwandt, John Mauceri, Zoltán Peskó, Wen-Pin Chien, Helmuth Rilling, Kirill Karabits, Stefan Soltesz, John Fiore, Robert Trevino, and Axel Kober, and stage directors like Stefan Herheim, Dietrich Hilsdorf, Tatjana Gürbaca, Christoph Loy, Christof Nel, Karoline Gruber, or Dieter Dorn. He performed with orchestras and ensembles such as the German Symphony Orchestra Berlin, the Hannover Radio Orchestra, the WDR Symphony Orchestra Cologne,the Berlin Radio Orchestra (RSB), the Danish National Radio Symphony Orchestra, the Orchestra of the Accademia di Santa Cecilia, the Orchestre Philharmonique de Radio France, the International Bach Academy, the RIAS Chamber Choir, the Balthasar- Neumann- Ensemble, the Stuttgart Chamber Choir and many others.

His vast concert repertoire includes works by Beethoven, Mozart, Dvorak, Bruckner Schumann and Mahler as well as the Passions by J.S. Bach, Handel's Oratorios and contemporary works by Krzysztof Penderecki, Bruno Maderna, Sofia Gubaidulina and Moritz Eggert. Concerts brought him to most European countries, as well as Russia, Japan, China and the US.

Corby Welch is also a much sought-after Lied singer. In the last few years he sang a,o. Janàcek's "Zápisník zmizelého" (Tagebuch eines Verschollenen), Britten's "Winter Words" and "Eight Songs for Tenor and Harp," Finzi's "Young Man's Exhortation," Schubert's "Die schöne Müllerin," Schumann's "Dichterliebe," Liederkreis op. 24, "Minnespiel op. 101," and "Myrten" .

Recently, he interpreted Britten's "War Requiem" in Aachen and at the Kassel State Theatre followed by "Elijah" in Bremen (Glocke), "Paulus" in Milano with La Verdi Orchestra, the St. Johns Passion with the Gütersloh Bach Choir, the St. Matthew Passion with the Lahti Symphony Orchestra, Mahler's "Lied von der Erde" in Buffalo, New York and Basel, Bruckner' F minor Mass in Tokyo, Japan, the 2nd act of TRISTAN AND ISOLDE in Taipei, Taiwan and Listzt's FAUST Symphony in Giuyang, China.

Corby Welch can be heard on numerous broadcast and CD recordings including Haydn's "Theresia Mass"(Hänssler) and Gubaidulina's "Passion of St. John and Resurrection" with Helmuth Rilling, Meinardus "Luther in Worms"with Hermann Max (CPO), Reichas" Leonore" with Frieder Bernius (Orfeo), und Hindemiths "Lange Weihnachtsmahl" mit Marek Janowski (Wergo).

Last season the versatile artist could be seen as SIEGMUND, PETER GRIMES and TAMBOURMAJOR at the Rhine Opera Düsseldorf. He was also TANNHÄUSER in a new production of the Weimar National Theatre, where he also sang SAMSON in concert performances of "Samson et Dalila."

In the season 18/19 Welch makes his debut as SIEGFRIED in the "Ring" in Düsseldorf-Duisburg, where he also portrays BACCHUS, PETER GRIMES and SIEGMUND. He returns to the Riga National Opera as TANNHÄUSER and as ERIK in a new production of "Der Fliegende Holländer," performs SIEGMUND in a concert performance of "Die Walküre" with the Transylvania State Philharmonic, and sings Beethoven's 9th Symphony at the opening Concert of the Weiwuying Center for the Arts in Kaohsiung, Taiwan.
REVIEWS
Rheinoper Düsseldorf-Duisburg - SIEGFRIED
Tenor Corby Welch filled his part as Siegfried not only with vocal qualities With his acting he also brought Siegfried to life. Almost effortlessly he mastered the title part, which is, due to its enormous stage presence, a real challenge.
Rundschau Duisburg
www.rundschau-duisburg.de
Nationaloper Weimar – TANNHÄUSER
The America tenor Corby Welch as guest singer in the title role was vocally just as well-balanced, fit and authentic as the baritone Uwe Schenker-Primus as Wolfram von Eschenbach.
BR Klassik
www.br-klassik.de
Corby Welch in the title role was very impressive.
Thüringer Allgemeine
www.thueringer-allgemeine.de
The highlight of the evening was Corby Welch, who plays the exhausting title role with mere limitless, lyrical reserves.
Concerti
www.concert.de
The Tannhäuser of Weimar, Corby Welch, is one of these tenors, whose mere appearance is worth visiting the performance.
NMZ
www.nmz.de
Rhine Opera Düsseldorf – Die Walküre – SIEGMUND
Corby Welch, who comes from the lyrical repertoire and gradually changed into the heldentenoral repertoire, has a brilliant, shining tenor voice that has enough metal to survive the "Wälse" cries. He is a Siegmund, the audience is fond of straightaway. He perfectly accentuates all emotions.
Der neue Merker – Johann Schwarz
Really surprising was the performance of the ensemble member Corby Welch, who has continuously developed himself from a Mozart tenor into a Siegmund interpreter. The captivating, flowery timbre is still there but it definitively gained power...
Opernwelt 3/2018 Michael Struck-Schloen
Corby Welch made a great impact with his interpretation of 'Winterstürmen', ….
Oper! Das Magazin – März 2018 – Christoph Schulte im Walde
Corby Welch's Siegmund is top class...
Orpheus 2/2018 Christoph Zimmermann
Among the singers the casting of CORBY WELCH as Siegmund is a real sensation…his huge dramatic potential but also the piani, all sung on a true belcanto base.
Online Merker
www.der-neue-merker.de
Vocally, Corby Welch as Siegmund is particularly convincing. Whereas, his Siegmund sometimes seems lustful rather than in love, his crystal-clear tenor voice leaves nothing to be desired.
Literatur und Feuilleton
www.literaturundfeuilleton.wordpress.com
Nationaloper Riga - TANNHÄUSER
Corby Welch as Tannhäuser, who had the power to prevail against her. With almost superhuman power and beauty , he held on to the very last tone without any effort but with precise, crystal-clear text comprehensibility.
Opernglas 07/08 2017 Autor G. Helbig
Grand Théâtre de Geneve – Das Rheingold – LOGE
Excellent: Corby Welch's portrayal of the Loge. The tenor, who made his debut at the Grand Théâtre de Genève has a sonorous, smooth voice with heroic aplomb.
Online Merker
www.der-neue-merker.de
A wonderful singer and an excellent actor: Corby Welch plays an asexual, opportunist Loge making a connection between the different worlds and characters.
ExitMag
www.exitmag.fr
Always perfectly articulated Corby Welch's exalted Loge kept moving into the spotlight of the performance.
Online Merker
www.der-neue-merker.eu
Magdeburg Theatre - LOHENGRIN
Corby Welch's Lohengrin is truly outstanding: sung with lots of experience, an economical use of his resources, secure articulation, providently prepared for the tricky sections. Welch knows how to let his tenor voice shine.
Online Merker
www.der-neue-merker.eu
Rhine Opera Düsseldorf - LOHENGRIN
Corby Welch in the title role makes a spectacular debut. With effortless easiness he sings Lohengrin with plenty of soft and lyrical tones. Yet, in the right moments he knows how to intensify his rich voice to heroic size.
Der Westen
www.derwesten.de
Linz Municipal Theatre – Mc TEAGUE
Likewise, Corby Welch incorporated the brutish power of McTeague both physically and vocally, providing the listener with a complex protagonist to be both pitied and feared.
Bachtrack
www.bachtrack.com
Mc Teague is portrayed by Corby Welch, who not only meets the physical demands of the character – as described in the novel. His powerful, beautifully timbred tenor voice is present from the first minute to the very last, singing the entire huge part without any sign of exhaustion. Also as an actor, he was very convincing – simply an outstanding performance!
Online Merker
www.der-neue-merker.de
The singers are also marvelous. Above all Corby Welch as Mc Teague with his powerful, yet also soft-golden tenor voice.
Der Standard
www.derstandard.at
Corby Welch jumped in for the indisposed Stephen Gould. His McTeague is sung with immense presence, expression and power.
Kurier
www.kurier.at
Vocally in top form and convincing in his acting the American Heldentenor Corby Welch as guest singer was brilliant in the title part.
Salzburger Nachrichten
www.sn.at
Rhine Opera Düsseldorf – WOZZECK
…in her affair with the Drum Major- portrayed by Corby Welch as a cool, ruthless, agreeably relaxed singing American.
Die deutsche Bühne
www.die-deutsche-buehne.de
Deutschlandfunk - Mahler Lied von der Erde
The instrumentalists and Corby Welch, who is a member of the German Opera on the Rhine since 2003 were highly concentrated and wonderfully confident. He sovereignly masters the required tenderness in the high registers and the contrary unrestrainedness, always staying perfectly understandable.
Wetterauer Zeitung
www.wetterauer-zeitung.de
Rheinoper Düseldorf – The Turn of the Screw – PETER QUINT
…and then there is this exceptional tenor Corby Welch. Welch, as the seductive ghost Peter Quint, evokes with his tenor voice the Quint of the world premiere.
Online Merker
www.der-neue-merker.de
Rheinoper Düseldorf – Arabella - MATTEO
Corby Welch as Matteo was an extraordinary positive surprise. The fact the director had turned him into a laughingstock, didn't affect in any way Welch's musical performance. He effortlessly managed the dreaded heights in the 3rd act.
Online Merker
www.der-neue-merker.de
Rheinoper Düseldorf –Frau Ohne Schatten
Corby Welch made his debut as the hunting lover. The young Mozart tenor, who is gradually changing onto the youthful dramatic repertoire, particularly attracted attention with his appearance in the first act. His interpretation of the emperor's hunting and travelling intentions were unpretentiously presented in a lyrical lied style. Performing in such a beautiful way one cannot but compare him with his great predecessors. If Welch continues improving with this consequence, he might become the new Franz Völker.
Online Merker
www.der-neue-merker.de
Rheinoper Düseldorf –PETER GRIMES
Corby Welch sings the title part for the first time. The giant-sized American with his soft, almost heroic tenor voice is the ideal cast for this irascible, quick-tempered but yet vulnerable and sensitive fisherman.
Klassik Info
www.klassikinfo.de
Above all Corby Welch, who not only mastered the terrifying Peter Pears role of the title character, instead he made the role entirely his own. He turned Grimes into an underdog, who hides behind his beefy shell. Each tenor tone sounded as if wrested from his suffering and yet always musically right.
RP Online
www.rp-online.de
ON STAGE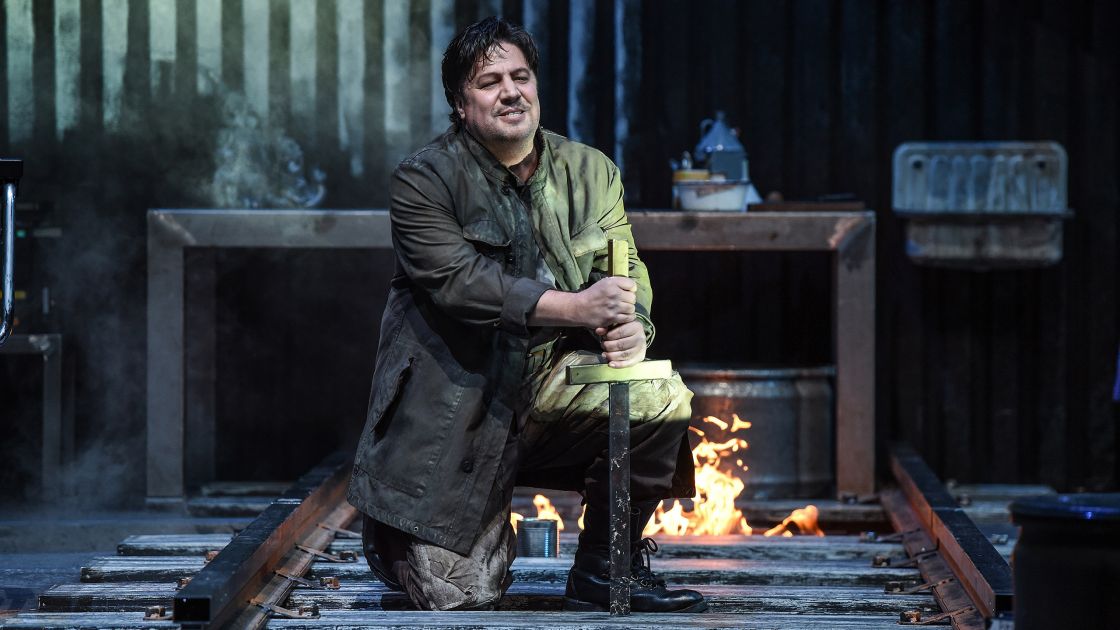 Corby Welch – SIEGFRIED – Deutsche Oper am Rhein Düsseldorf-Duisburg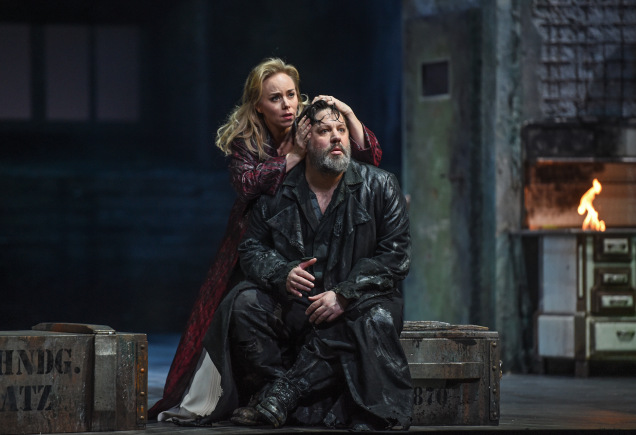 Rheinoper Düsseldorf – Die Walküre -SIEGMUND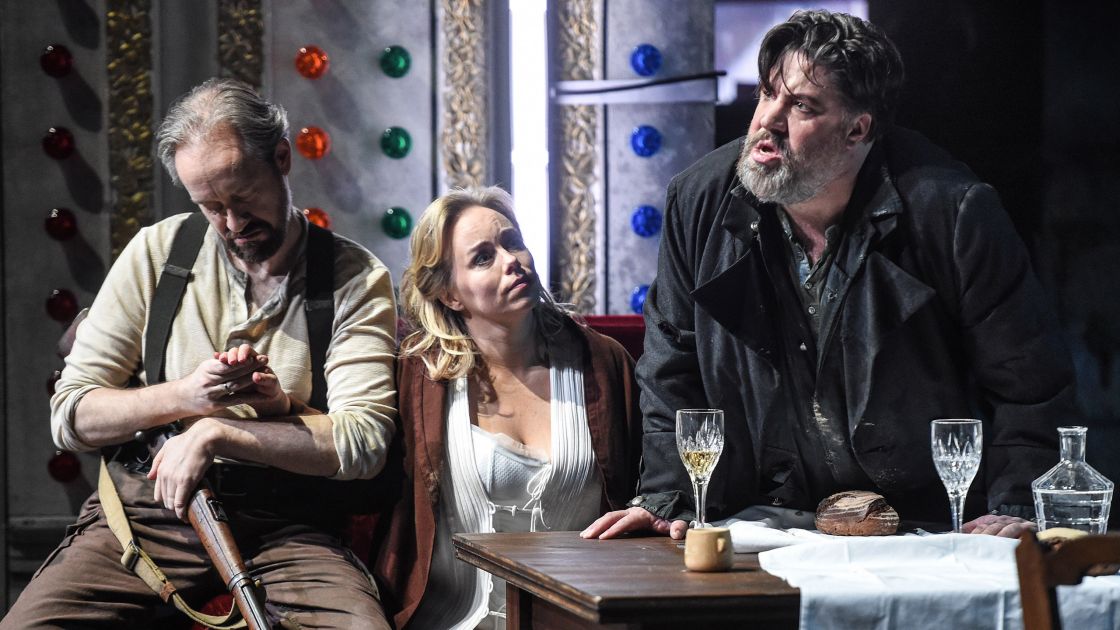 Rheinoper Düsseldorf – Die Walküre -SIEGMUND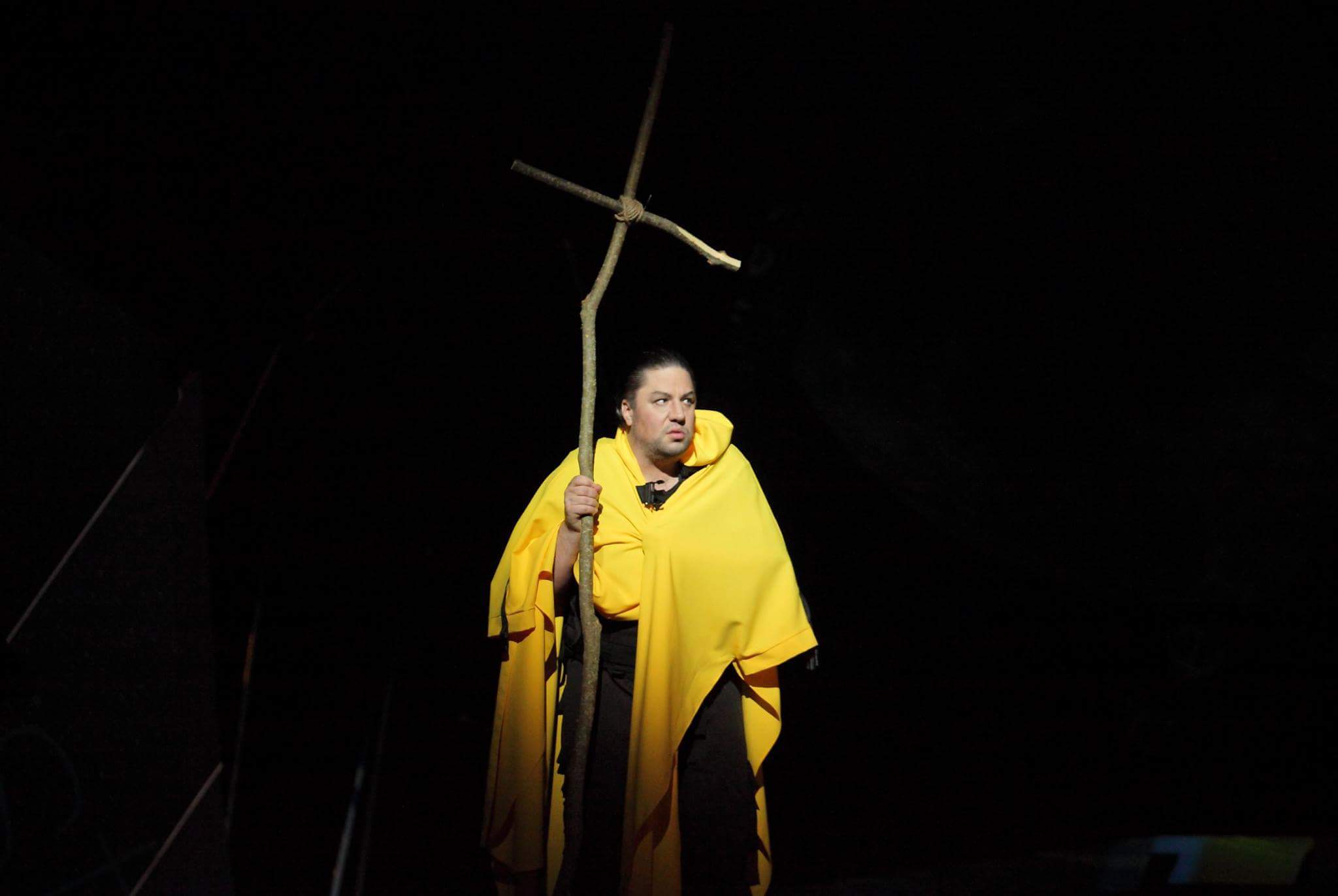 Nationaloper Riga - Tannhäuser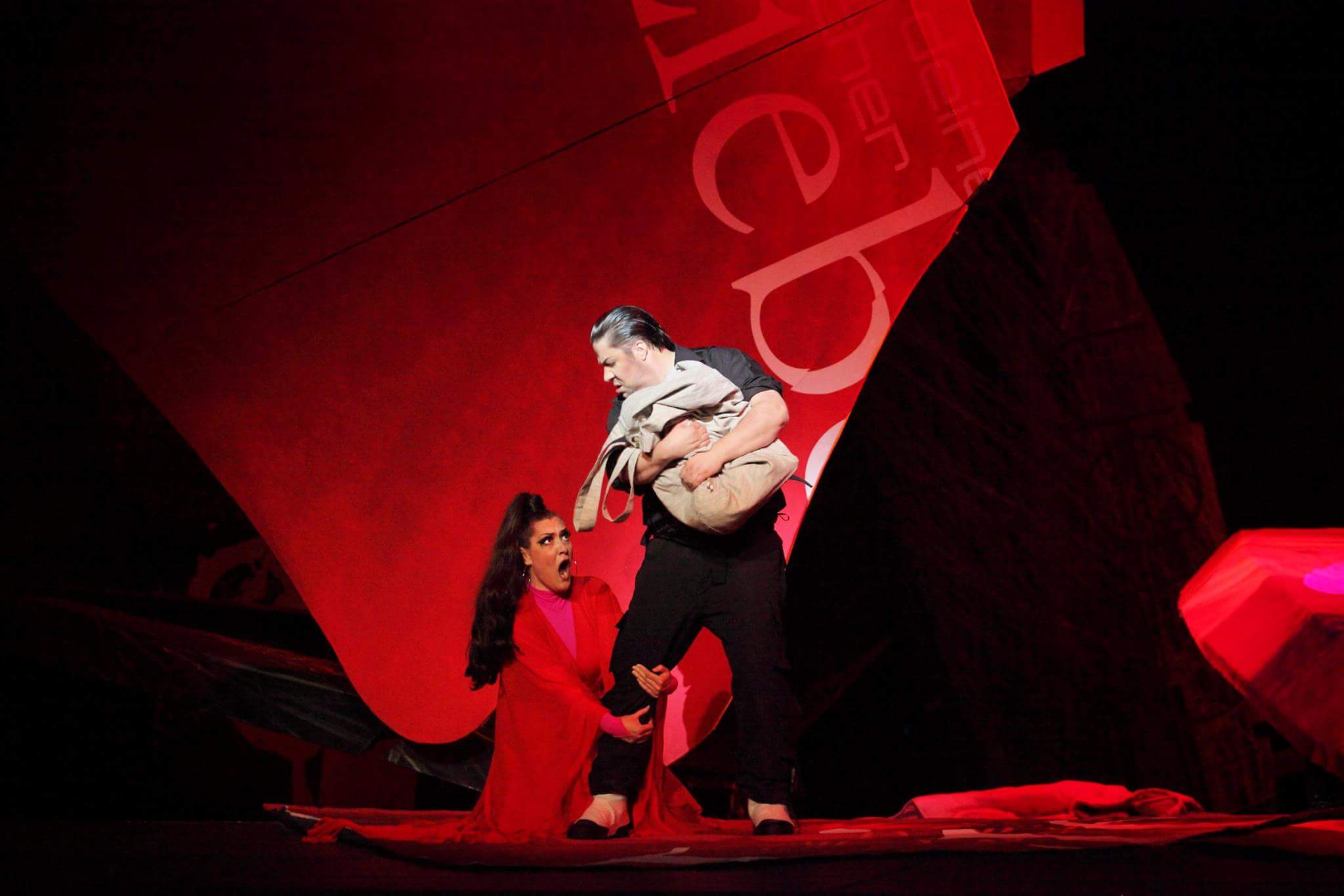 Nationaloper Riga - Tannhäuser
Corby Welch & Martina Dike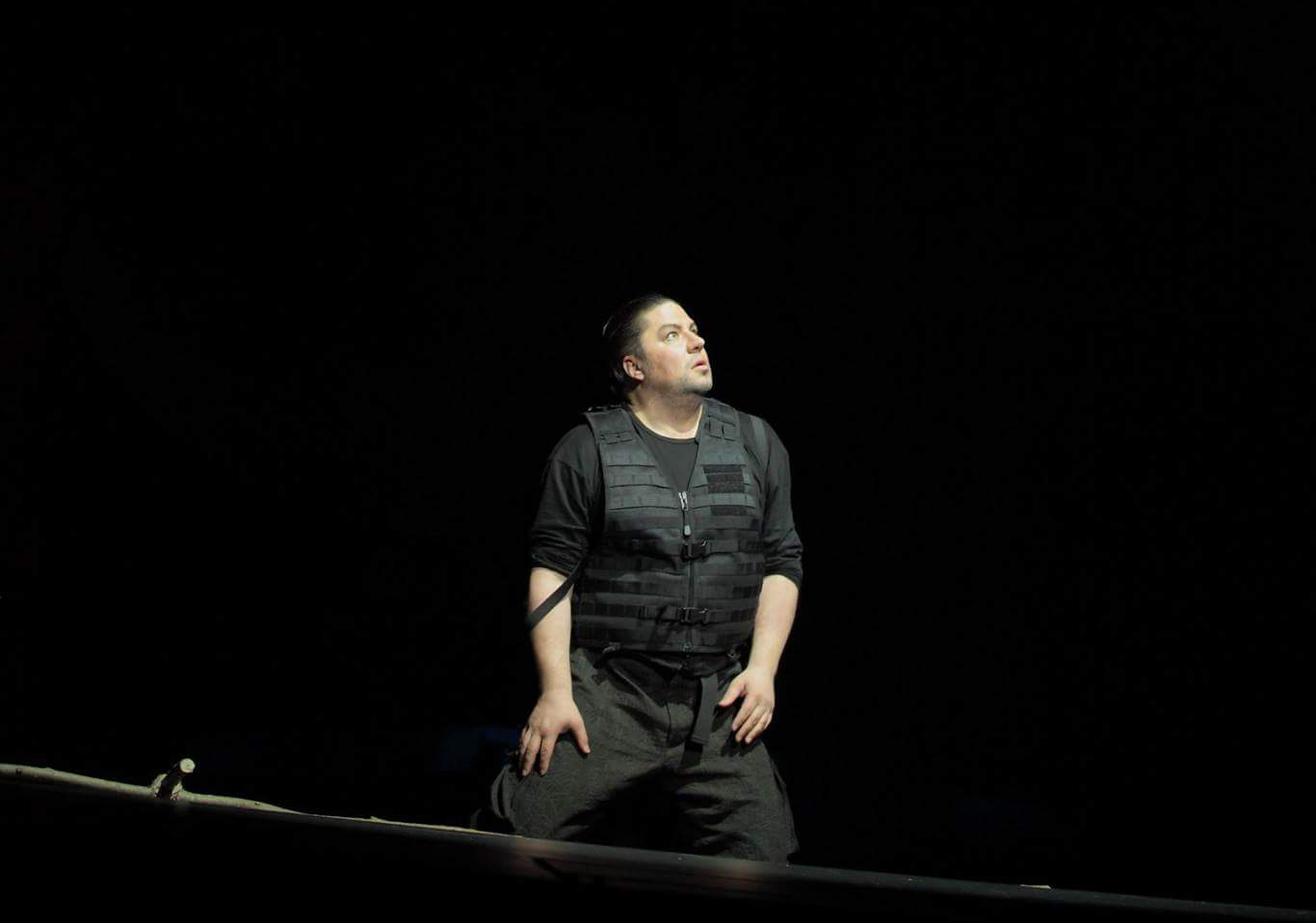 Nationaloper Riga - Tannhäuser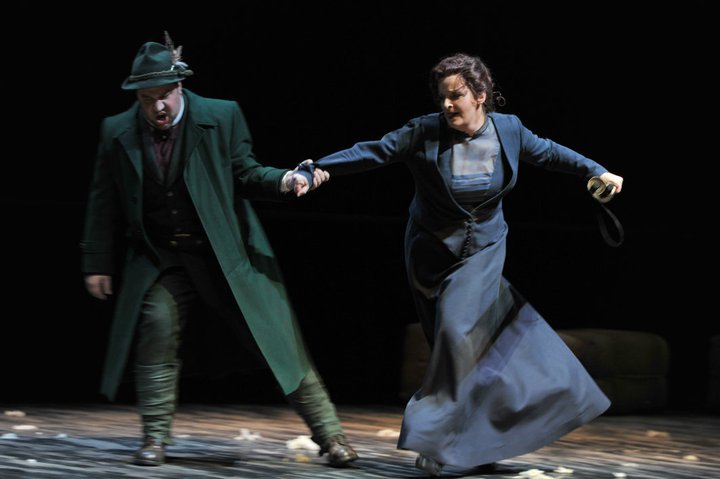 Rheinoper Düsseldorf – Der Fliegende Holländer – ERIK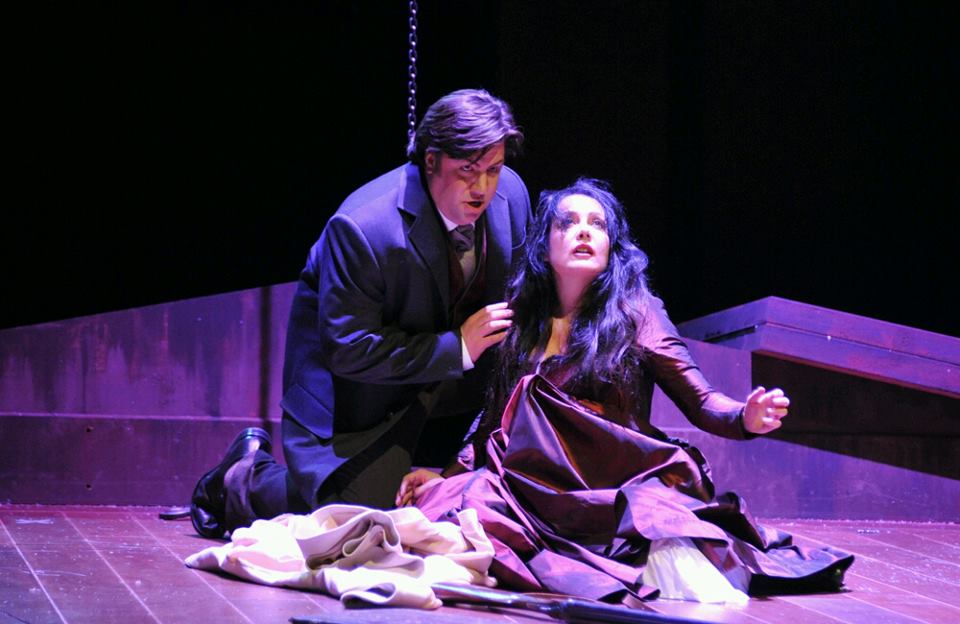 Rheinoper Düsseldorf – Der Fliegende Holländer – ERIKA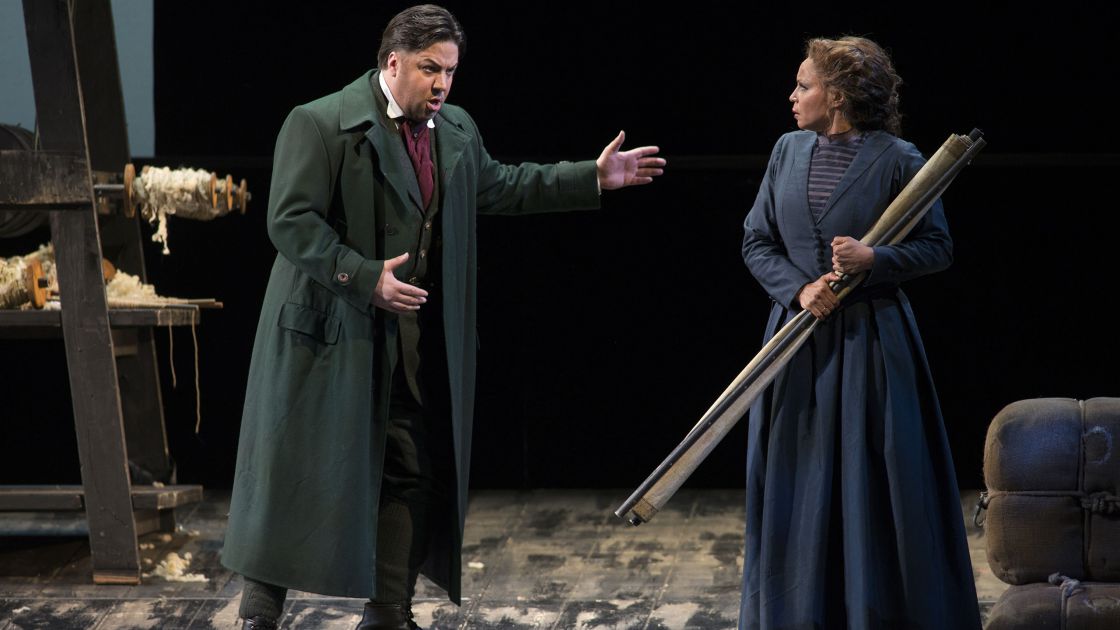 Rheinoper Düsseldorf – Der Fliegende Holländer – ERIK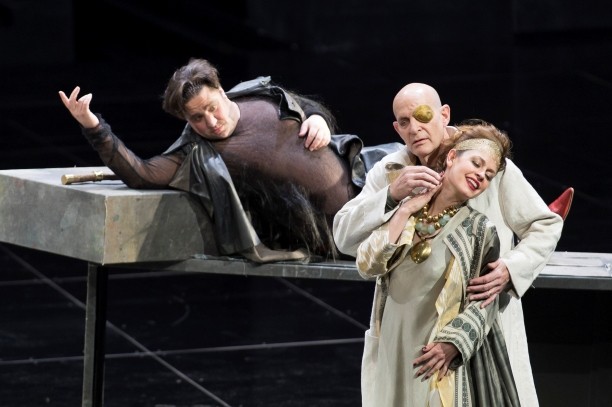 Grand Théâtre de Genève – Das Rheingold – LOGE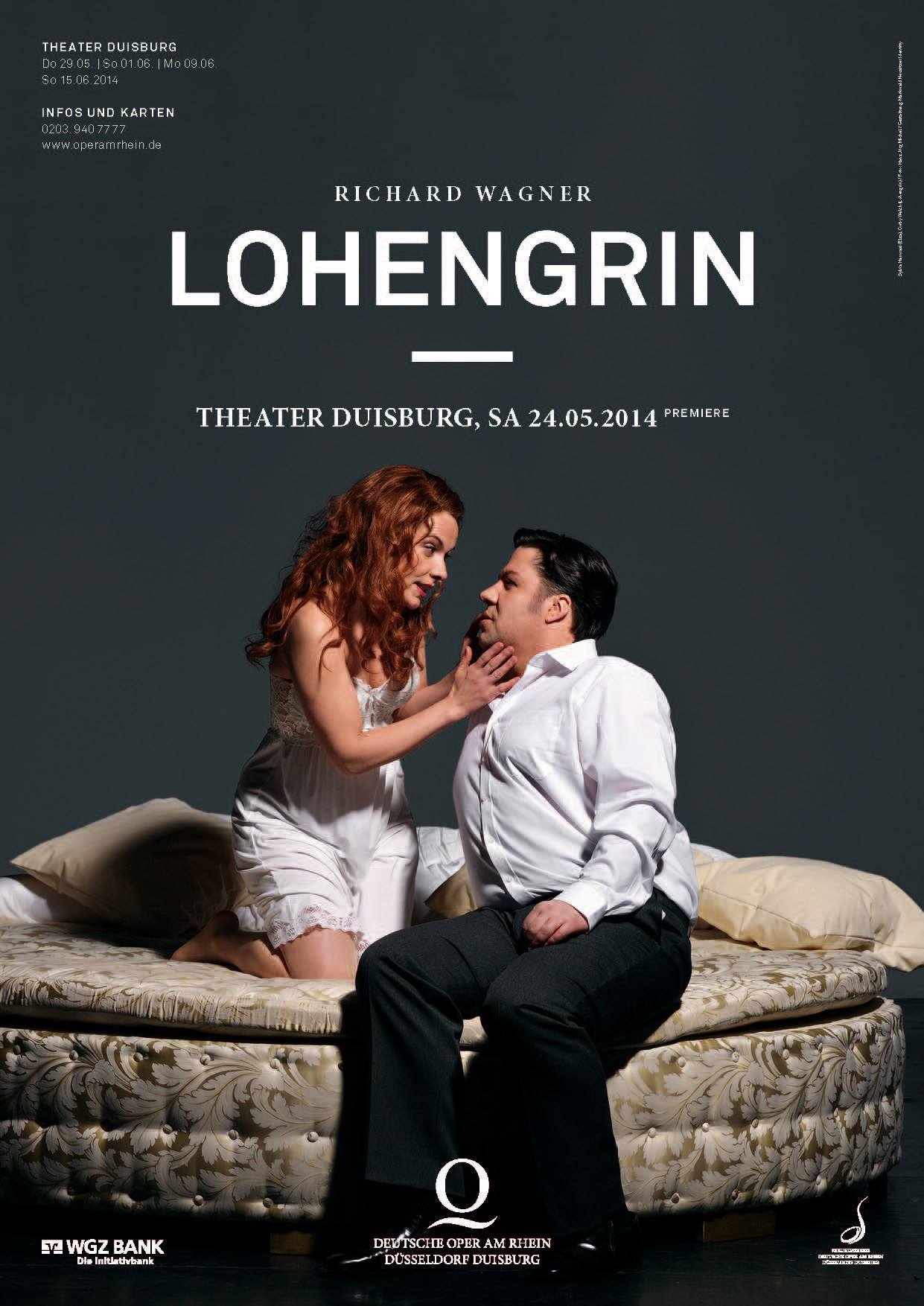 Theater Duisburg - LOHENGRIN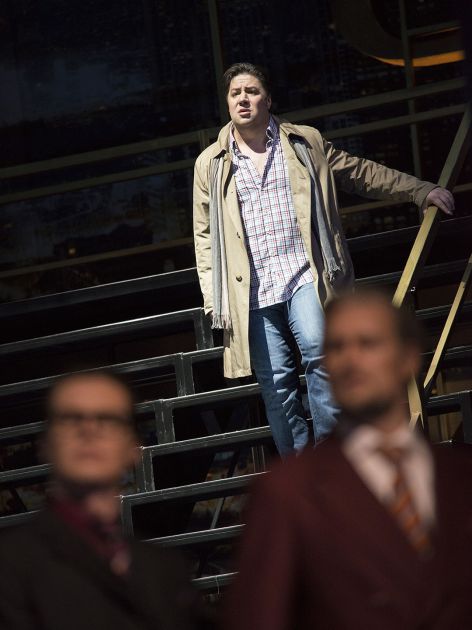 Theater Duisburg - LOHENGRIN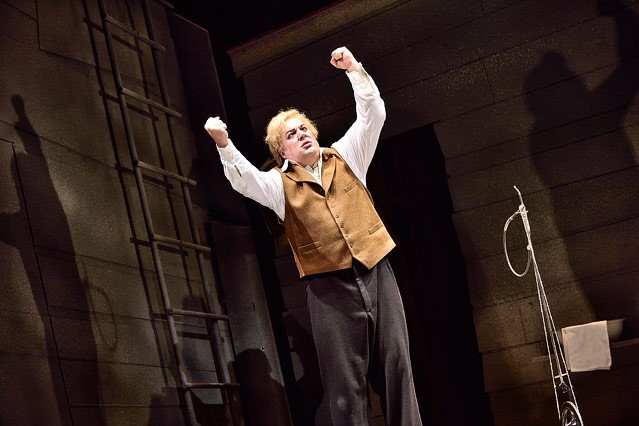 Landestheater Linz – Mc TEAGUE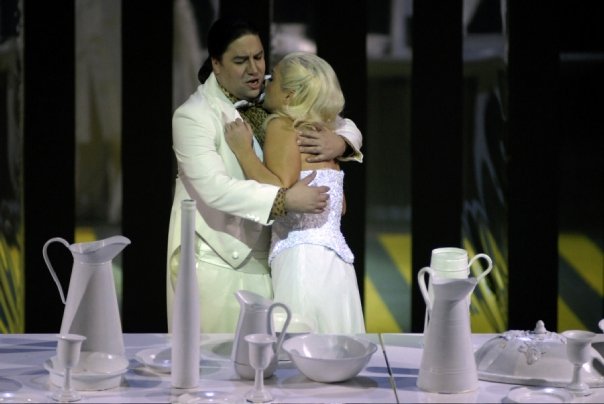 Rheinoper Düsseldorf - Rusalka - PRINZ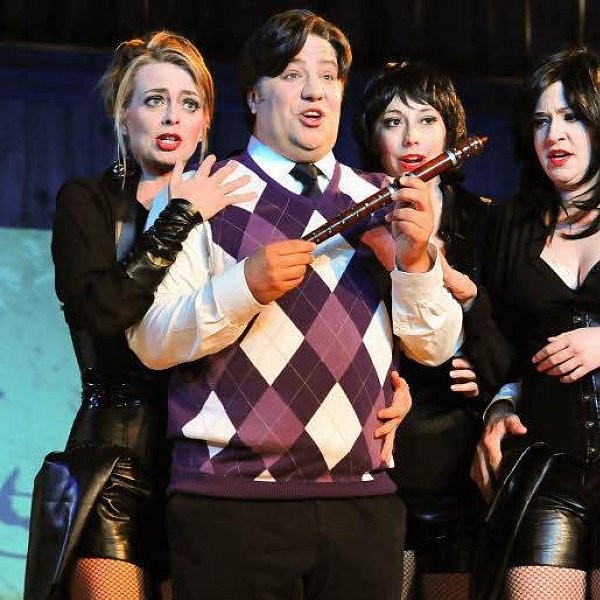 Rheinoper Düsseldorf – Die Zauberflöte – TAMINO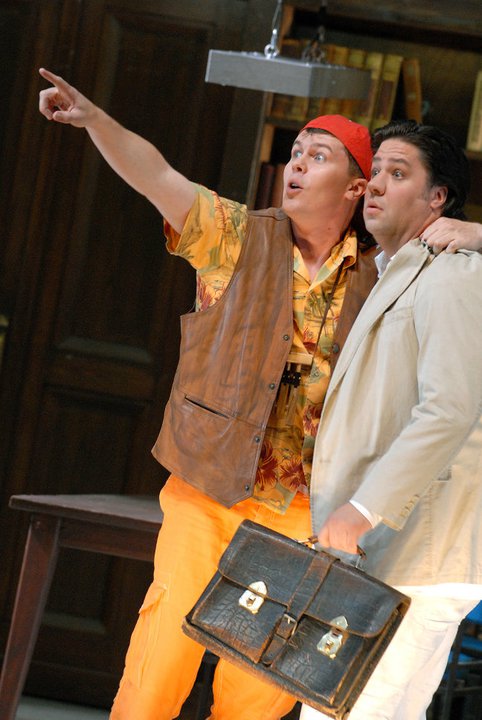 Rheinoper Düsseldorf – Die Zauberflöte – TAMINO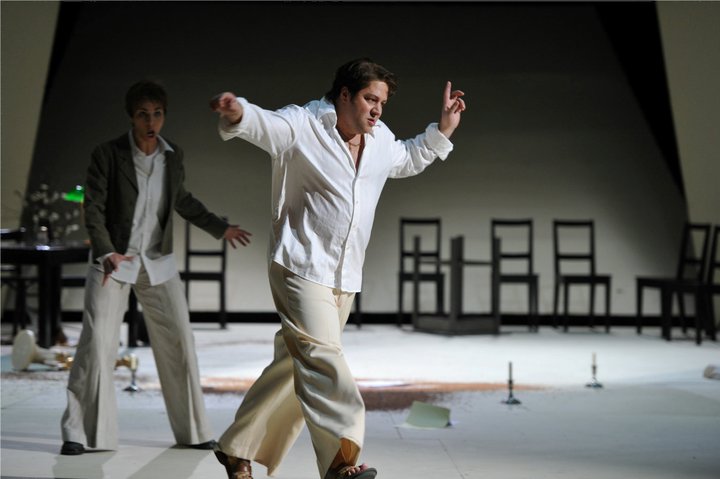 Rheinoper Düsseldorf – La Clemenza di Tito - TITUS