BIOGRAPHY

In May 2019 the German-Brasilian soprano made her successful debut at the Deutsche Oper Berlin as IRENE in Wagner's "Rienzi". Before, she had already made her European debut in this very role at the Meiningen State Theatre.

At the Bayreuth Festival in August 2018 she covered EVA in Wagner's "Die Meistersinger", a role in which she had known an equally huge success before in Meiningen.
Initially, this was followed by other leading parts such as TOSCA, AMELIA in Verdi's " Un Ballo in maschera", CONTESSA ALMAVIVA, GIULIETTA in "Les contes d'Hoffmann", FIRST DAME, BARONESS FREIMANN, SYLVA VARESCU and MARIANA in Wagner's "Das Liebesverbot" at the municipal theatres of Chemnitz, Görlitz, Hof, Ingolstadt, Meiningen, Nordhausen and Pforzheim just to name a few.

Soon afterwards came such roles as ELISABETH and VENUS in Wagner's "Tannhäuser", MARSCHALLIN, TOSCA, DONNA ELVIRA and LA CIESCA in "Gianni Schicchi" at the German National Theatre Weimar. She also portrayed the title part in KATJA KABANOVA a.o at the Theatre Krefeld/Mönchengladbach, ROSALINDE a.o at the Wiesbaden State Theatre, the COUNTESS MADELEINE in Strauss' "Capriccio" and the COUNTESS MARIZA at the Theatre Magdeburg. She made her debut as Verdi's AIDA in 2019, jumping in on short notice at the Plauen-Zwickau Theatre .

Born in São Paulo, Camila Ribero-Souza absolved singing studies there with Jocelyne Gallo, Edilson Costa and Luiz Tenaglia Gesang at theSanta Marcelina Faculty. Besides, she completed a technical and literary texts translator and interpreter course with diploma. The artist is fluent in German, English, French, Italian, Portuguese and has a good knowledge of Spanish. From 2009 until 2013 she was a member of the former Netherlands Opera Studio, where she was vocally coached by Ian Storey. Her current teacher is the American dramatic soprano Nadine Secunde. Camila also attended master classes with Heidi Grant Murphy, Nathalie Stutzmann, Mara Zampieri, Sir Thomas Allen, Dennis O'Neill and Dame Kiri Te Kanawa.

Camila Ribero-Souza works with such renowned conductors as Roberto Minczuk, John Neschling, Clark Rundell, Matthew Coorey, Mark Heron, Philippe Bach, Alexander Steinitz, Alan Buribayev, Leo McFall, Arturo Alvarado, Chin Chao Lin, Michael Helmrath, Dominik Beykirch, Kirill Karabits and Patrick Lange. 

In October 2014 she was nominated by Tom Sutcliffe (Opera Now, New Directions, London) in the German opera magazine OPERNWELT as Female Singer of the Year for her performance as MARSCHALLIN in Richard Strauss' "Der Rosenkavalier".

In the season 2019/2020 she made her debut at the Weimar National Theatre in the title part of Strauss' "ARIADNE auf Naxos" and sang the revivals of TOSCA, DONNA ELVIRA and GERTRUDE there. She returned as AIDA to Plauen-Zwickau and to the Meiningen State Theatre as ELISABETH and VENUS. In the season 21/22 she debuted with Puccini's title part of TURANDOT at the Regensburg Theatre and sang the 1st DAME in "Die Zauberflöte" at the Semperoper Dresden.
REVIEWS
Staatstheater Schwerin – Tannhäuser - ELISABETH
Camila Ribeiro – Souza as Elisabeth sang and acted delightfully. Her melodious, powerful soprano voice convinced even in the most quiet notes and was entirely pleasing.
OPERNGLAS 11/2022, G. Helbig
Deutsche Oper Berlin – Rienzi – IRENE
(...) So a short-notice search for a "substitute-Irene" was started, what poses an extremely difficult task, given the piece is rarely performed and has many shortened variations. Camila Ribero-Souza arrived at the theatre two hours before the beginning of the performance. She had sung the role of Irene once eight years ago in a completely different shortened version as the one done by the Deutsche Oper Berlin. Awkwardly and unfortunately placed at the side of the stage, the brave Brazilian singer with blatant sight-singing abilities is equipped with a radiant young dramatic soprano voice. She has already sung both Venus and Elisabeth in one evening in Tannhäuser. In the love duet with Adriano in the first Act and in the big duet with Rienzi in the fifth Act she sets new standards.
Online Merker
www.onlinemerker.com
Nationaltheater Weimar – Ariadne auf Naxos - ARIADNE
Camila Ribero-Souza as primadonna and Ariadne, a wonderful singer, who plays bot an enjoyable primadonna and a desperate, loving woman who is aware in every scene and every syllable what is going on and succeeds in expressing it with an incredible amount of emotions.
MDR Fazit – Uwe Friedrich MDR Fazit – Uwe Friedrich
www.ondemand-mp3.dradio.de
Nationaltheater Weimar – Don Giovanni – DONNA ELVIRA
Camila Ribero-Souza sings Donna Elvira with an expression of tragedy, desperation and hope. Vocally, her ' Mi tradi' is one of the highlights of this evening. I
IOCO – Ingrid Freiberg
www.ioco.de
Nationaltheater Weinmar - Tosca - TOSCA
Dignity, devotion, style: ovations for Tosca. The Brazilian soprano Camila Ribero-Souza as Tosca is all diva and what a diva! From the moment she enters on stage, it is clear that the stage belongs to her, but because she struts around vainly, making affected gestures, but because she plays this role as a singer overwhelmed by political manipulations. Ribero-Souza shows her vulnerability, her weaknesses, her desperation. Before stabbing the evil Scarpia, who wants to rape her, she solemnly removes her necklace with the cross pendant and after killing him, she grabs the white roses - flowers of the dead- spreading them around the body, because in this very moment Tosca, the pious murderess, certainly killed herself too. There is no life after such a deed for her. Her performance shows dignity, devotion, style, a mixture that is possibly found more often in South America than in Europe. In any case the ovations of the audience were assured.
Peter Jungblut
www.br-klassik.de
Cavaradossi is only able to grasp for air only, when Tosca is gone. Because this woman knows exactly how to make vanish the line between pure decency in front of the Madonna and a hot embrace. But the interpretation of Brazilian Camila Ribero-Souza has much more to offer. Among many others, she pergectly shapes the following moments with her excellently focused soprano: the general pause before the famous solo "Vissi d´arte" is no pausing before a hit-song, but a moment full of tension before the impassioned rupture. The phrasing following and melodic arches are also interrupted by caesuras. Ribero-Souza´s soprano glows and blossoms over and over, consciously and in perfect vocal shape.
Roland H. Dippel
www.nmz.de
Nationaltheater Weinmar – Tannhäuser – ELISABETH
Elisabeth in the Weimar production is portrayed by the Brazilian soprano Camila Ribero-Souza. Sher has a bright, brilliant soprano voice, which perfectly suits the vocal challenges of the role. Moreover, she has just the wright volume and voice range to generate the vocal effect, as it was meant by Wagner. With an outstanding dynamic, she succeeds in sublimely presenting the complete range of the part. In the second act she sings "Dich teure Halle, grüß ich wieder, froh grüß ich dich, geliebter Raum" and "Zurück von ihm.." with an enormous vocal intensity and differentiation, without pushing the peaks but yet vocally disclosing her intimate emotions full of passion.
Turgay Schmidt
www.opernmagazin.de
ON STAGE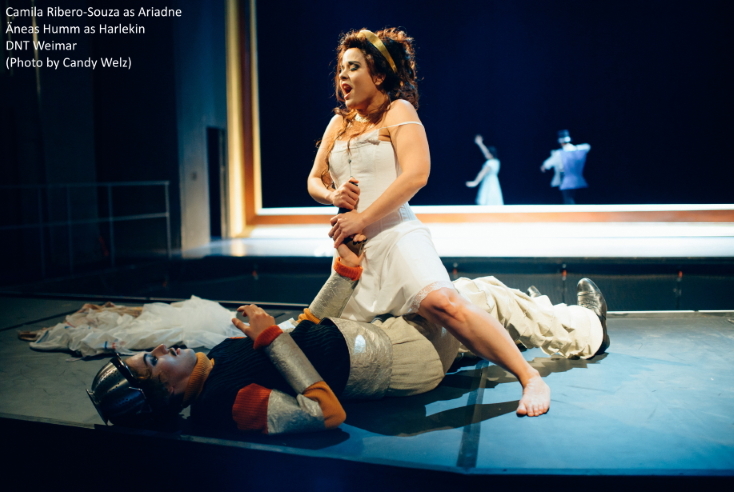 Deutsches Nationaltheater Wemar – Ariadne auf Naxos - ARIADNE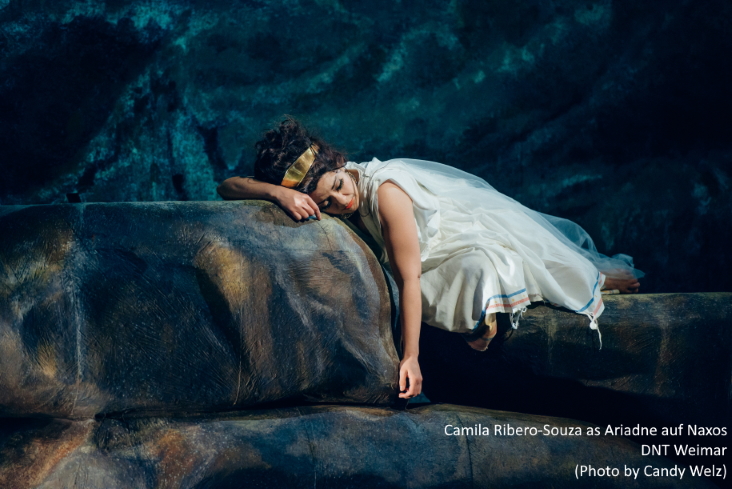 Deutsches Nationaltheater Wemar – Ariadne auf Naxos - ARIADNE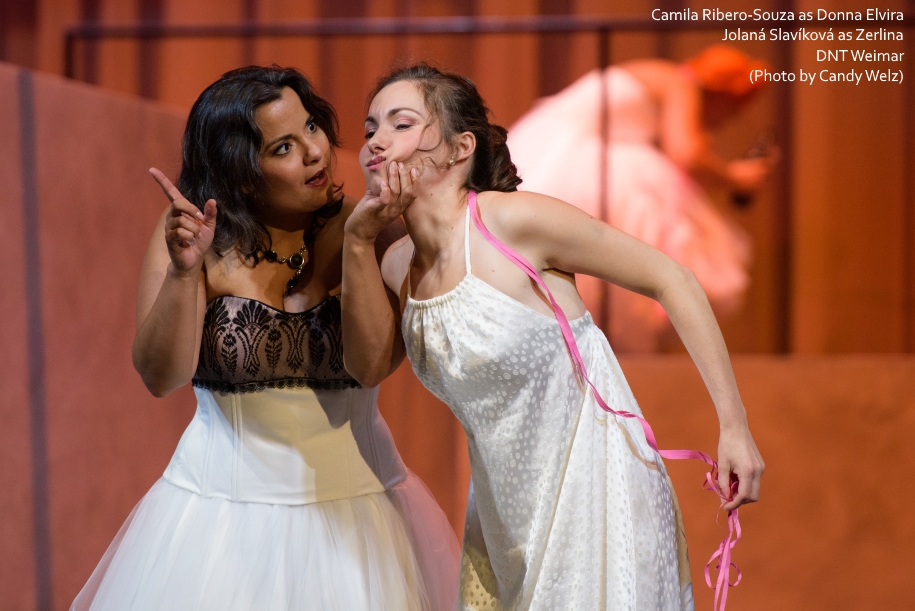 Deutsches Nationaltheater Wemar – Don Giovanni – ELVIRA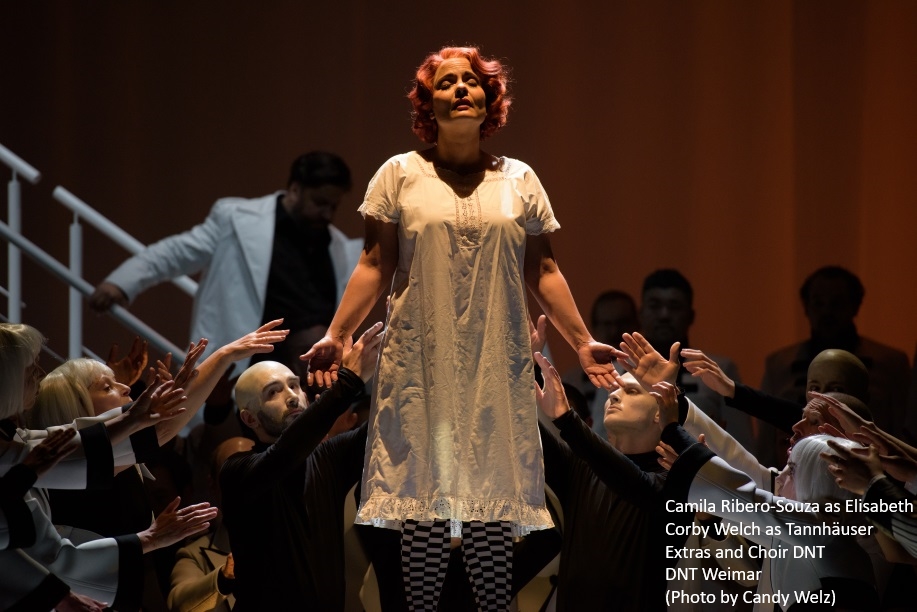 Deutsches Nationaltheater Wemar – Tannhäuser – ELISABETH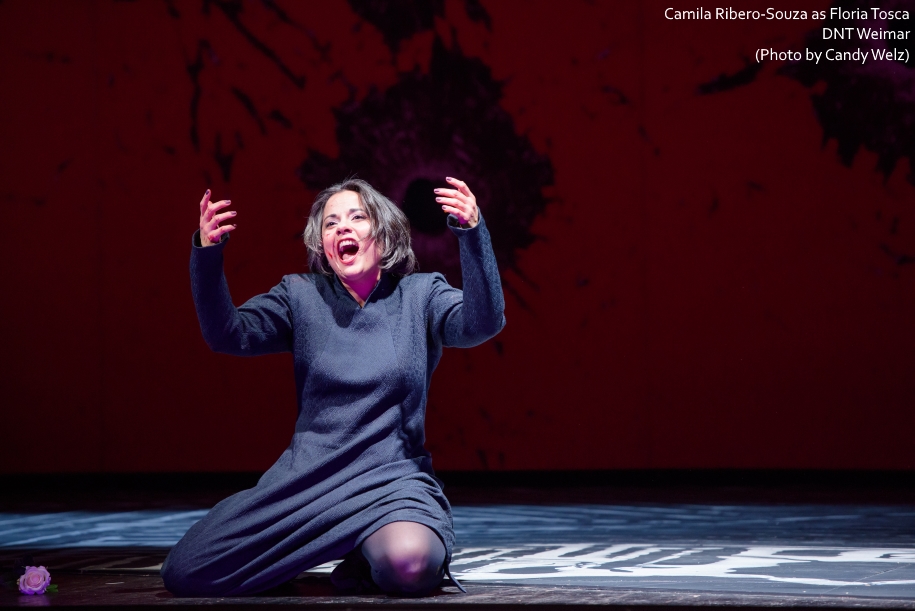 Deutsches Nationaltheater Wemar – Tosca - TOSCA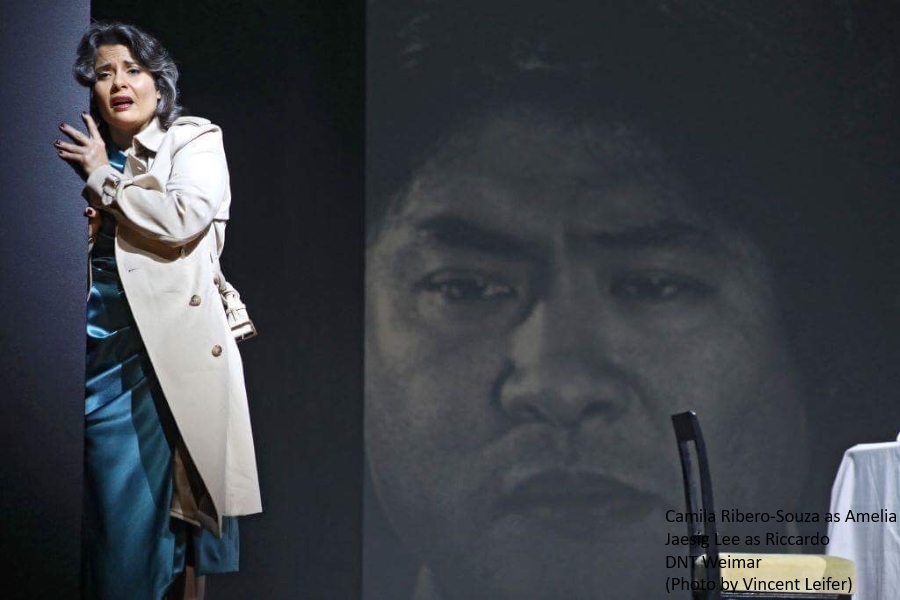 Deutsches Nationaltheater Wemar – Un ballo in maschera – AMELIA