BIOGRAPHY

"Birger Radde's Don Giovanni is of great vocal appeal: powerful, flattering, melodious, slick, someone who knows how to use his vocal technique to achieve social manipulation.."
[FAZ 10/2019, Jan Brachmann ]

In 2021 Birger Radde makes his debut as WOLFRAM in "Tannhäuser" at the Heidenheim Festival. In the season 21/22 he also is WOLFRAM at the opera houses of Modena and Reggio Emilia in Italy.

In 2019 the German baritone was nominated Rising Young Singer of the Year by the German opera magazine "Opernwelt" in it's critics survey, because of his "ravishingly beautiful, career worthy cavalier baritone ". In 2020 he was nominated best Singer of the Year for his interpretation of DON GIOVANNI

Lately, Birger Radde succeeded as DON GIOVANNI, CONTE in "Le nozze di Figaro", PAPAGENO in "Die Zauberflöte", EISENSTEIN in "Die Fledermaus", TIERBÄNDIGER/ATHLET in "Lulu", FRANK/FRITZ in "Die tote Stadt", RENATO in "Un ballo in maschera", ENRICO ASHTON in "Lucia di Lammermoor"… at the Bremen Theatre .

Guest performances brought him as EUGEN ONEGIN to the Weimar National Theatre, as Montiverdi's ORFEO to the Norfolk Chamber Music, to the Opera House Leipzig, the Bucharest Opera, the Kiel Theatre and the Opera Festival Miskolc/ Hungary. As Prize Winner of the "Castle Rheinsberg Chamber Opera" Competition in 2009 he performed the role of Tarquinius in B. Britten's "The rape of Lucretia" .

The Northern-Germany-born singer graduated at the Conservatories of Dresden and Leipzig and at the renowned Yale University in the USA. He completed his musical studies with master classes with Richard Miller, Christian Gerhaher and Peter Schreie. At present Birger Radde is being coached by the Italian baritone Gianni Maffeo. The singer had his first stage experiences in an engagement at the theatres of Hof (2012 - 2015) and Münster (2016/17).

Apart from his operatic activities, the baritone regularly performs in concerts on international stages He has a broad repertoire of Lieder and Oratoria (a.o. Bach's Passions, F. Mendelssohn-Bartholdy's Elias or Brahms' Requiem). He gave Liederabende at the Accademia di S. Cecilia/Rom, the Ateneo Veneto/Venice, the German House New York/USA or the Liederhalle Stuttgart.

His collaboration with such conductors as Hellmut Rilling, Marc Albrecht, Frank Ollu, Attilio Cremonesi and Stephen Layton and the Academy for Ancient Music Berlin, the Modern Ensemble and the Gewandhaus Orchestra Leipzig brought him to such important concert halls as the Berlin Philharmonic, the Gewandhaus Leipzig, Singel/ Antwerp and the BOZAR/Brussels.
KRITIKEN
Theater Bremen – DON GIOVANNI (Oktober 2019)
The performance is dominated by the brilliant actor Birger Radde as the title heron Don Giovanni.
IOCO
www.ioco.de
But back to Radde and Heinrich: bot hof them brilliantly master their role. As Giovanni Radde had to do without a huge aria, though he has a lot to sing, which he does with a rich sounding baritone voice.
Weser Kurier
www.weser-kurier.de
Birger Radde in the title role accomplishes great things, because his acting contains the necessary abysmality and because he doesn't just looks for grandezza and brilliance ( which he definitely possesses) but also for the dirt of the world.
Opernwelt 12/2019 Jürgen Otten
Theater Bremen - Die tote Stadt – FRANK (Juli 2019)
And then all of the sudden we indeed experience the magical moment of Pierrot's utopian ballade "Mein Sehnen, mein Wähnen, es träumt sich zurück."
Opernwelt 07/2019
Theater Bremen - Un ballo in maschera – Renato
Birger Radde sings Renato with an Italian timbre and experienced vocal technique. From the dark, lower notes to the high and beaming, he connects the registers of his voice effortlessly with a beautiful, steady, and thrilling quality. You don't hear such an excellent Renato very often.
IOCO, Michael Stange, 04/11/2018
www.ioco.de
Particularly worth mentioning is Birger Radde as Renato, whose charismatically beautiful voice is exceptionally thrilling.
NMZ
www.nmz.de
Theater Bremen - Lucia di Lammermoor - ENRICO
The baritone Birger Radde, was a passionate Enrico with a powerful and perfectly balanced vocal sound. The sinister and convincing interpretation of the role reminds one of the character Jago. Brillant!
Opernparadies 02/2018
SZENENFOTOS
Theater Bremen - Don Giovanni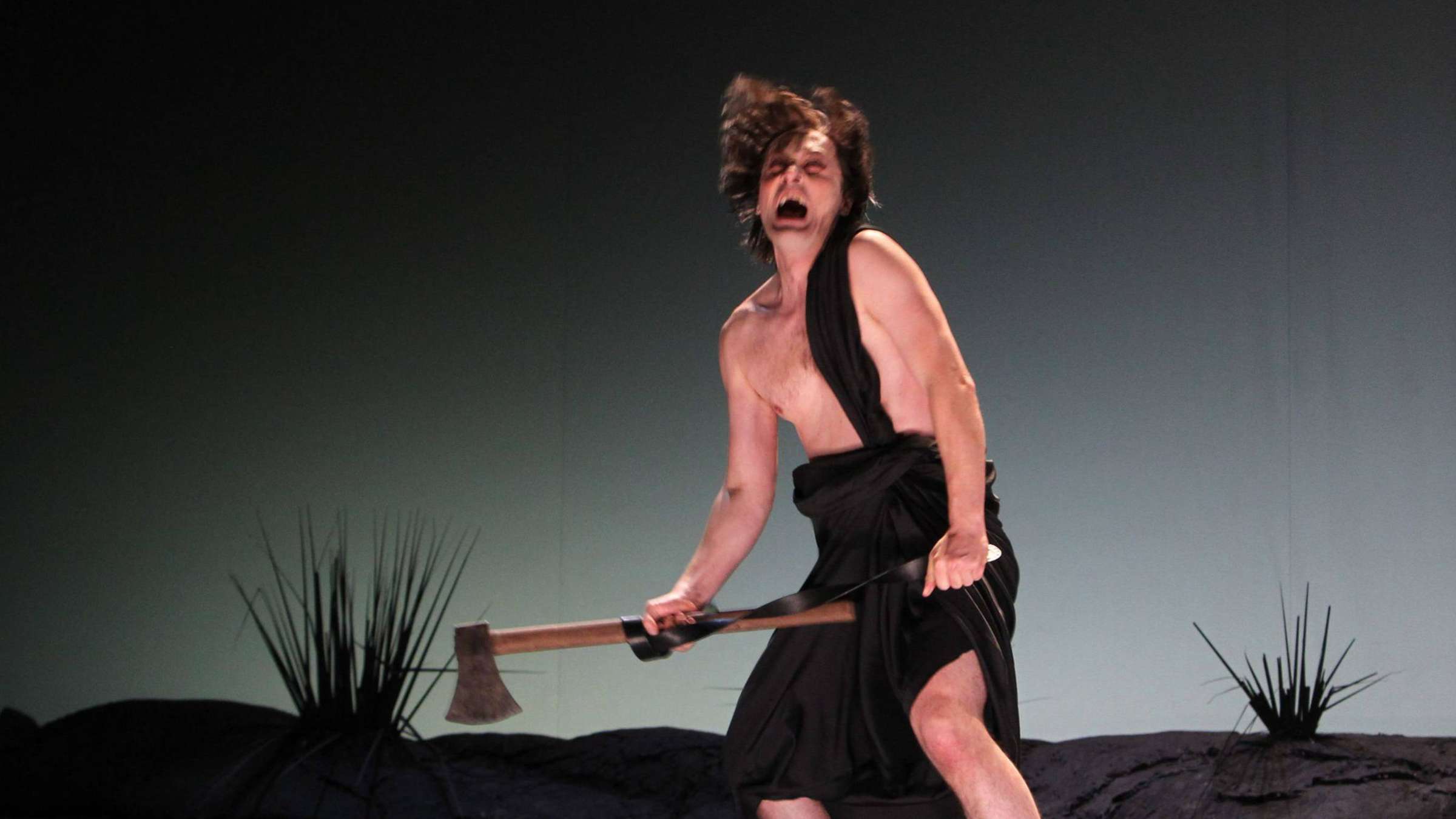 Theater Bremen - Don Giovanni