BIOGRAPHY

Guest performances have brought Anton Keremidtchiev already to the Deutsche Oper Berlin as MACBETH and ESCAMILLO, to the Komische Oper Berlin as GIORGIO GERMONT, SHARPLESS and PIZARRO, to the Finish National Opera Helsinki as ESCAMILLO, to the Hamburg State Opera as GIORGIO GERMONT and as KURWENAL to the Frankfurt Opera, the Opera House Halle, the Mannheim National Theatre, the Opera House Leipzig and on a 2011 Hong Kong tour. Besides, he had guest performances in the operas of Cologne, Bonn, Düsseldorf… just to name a few.

After his huge successes as TELRAMUND at the Dortmund Theatre, the Opera of Toulon and in Beijing, he also portrayed this very role at the Vilnius National Opera, the Bratislava National Opera, at the Budapest Wagner Days with Maestro Adám Fischer, at the Graz Opera, in Rouen and in Rennes. He sang RIGOLETTO at the Vienna Popular Opera and in the season 15/16 at the Braunschweig State Opera. He made his debut as MUSIC TEACHER in 'Ariadne auf Naxos' at the Herrenchiemsee Festival. He also debuted as FRITZ at the Tokyo National Opera.

He made his debut as HERAULD and KLINGSOR at the Richard Wagner Festival in Wels. The ladder he also sang in 2012 in Zagreb. In 2011 he portrayed for the first time AMFORTAS (Parsifal) at the Budapest State Opera. Lately, he could also be seen in this role at the Wiesbaden State Theatre.

Anton Keremidtchiev graduated with distinction at the Bulgarian State Conservatory in Sofia and perfected his vocal training with Boris Christoff in Rome and with Professor Alberto Zedda at the Accademia Rossiniana in Pesaro.The native Bulgarian with Italian nationality began his professional singing career as a bass singer. He started as soloist at the Sofia State Opera. Soon afterwards, he was invited to sing guest performances at the Teatro Verdi Trieste, the Teatro Massimo Palermo, the Rossini Opera Festival in Pesaro and in Treviso, where he twice was one of the finalists of the 'Toti dal Monte' Contest. Moreover, he sang in Paris, Valencia, Oviedo and Moscow.

Under the direction of Claude Thiolas, Anton Keremidtchiev changed 1997 to the baritone repertoire and made his successful debut as JAGO, a role he sang subsequently in several guest performances.

Meanwhile, Anton Keremidtchiev' s repertoire includes such roles as MONFORTE (I Vespri Siciliani), RENATO, EZIO (Attila), MILLER, NABUCCO, GOLAUD, PETER (Hänsel and Gretel), the 4 VILLAINS in 'The Tales of Hoffmann', ALFIO and many more. Since 2013 he regularly performs at the National Operas of Prague and Bratislava. Here he sang a.o. JOCHANAAN, RIGOLETTO, MACBETH and SIMONE BOCCANEGRA.

Anton Keremidtchiev performs with such distinguished conductors as James Conlon, Lothar Zagrosek, Kirill Petrenko, Marc Albrecht, Paolo Carigniani, Roman Brogli-Sacher, Ivan Anguélov, Stefan Blunier, Jac van Steen, Carlo Franci and many more.

Recent engagements brought the artist a.o. as GIORGIO GERMONT and GUNTHER in 'Götter-dämmerung' to the Wiesbaden State Theatre, as PIZARRO to the Opera Rennes and Angers-Nantes, as JOCHANAAN in Salome to the Teatro Massimo Bellini in Catania, as GUNTHER to the National Opera Tokyo.
REPERTOIRE
| | | |
| --- | --- | --- |
| Beethoven, Ludwig van | Fidelio | Pizarro |
| Bizet, Georges | Carmen | Escamillo |
| Bizet, Georges | Les Pecheurs de Perles | Zurga |
| Debussy, Claude | Pelléas et Mélisande | Golaud |
| Donizetti, Gaetano | L'Elisir d'amore | Belcore |
| Donizetti, Gaetano | Lucia di Lammermoor | Enrico Ashton |
| Henze, Hans Werner | Elegie für junge Liebende | Gregor Mittenhofer |
| Humperdinck, Engelbert | Hänsel und Gretel | Peter |
| Händel, Georg Friedrich | Alcina | Melisso |
| Lortzing, Albert | Der Wildschütz oder Die Stimme der Natur | Graf von Eberbach |
| Mascagni, Pietro | Cavalleria rusticana | Alfio |
| Massenet, Jules | Werther | Albert |
| Meyerbeer, Giacomo | Le Prophète | Le Comte Oberthal |
| Mozart, Wolfgang Amadeus | La Finta giardiniera | Roberto / Nardo |
| Mozart, Wolfgang Amadeus | Le Nozze di Figaro | Conte d'Almaviva |
| Mozart, Wolfgang Amadeus | Le Nozze di Figaro | Figaro |
| Offenbach, Jacques | Les Contes d'Hoffmann | Lindorf, Coppélius, Miracle, Dapertutto |
| Puccini, Giacomo | La Bohème | Marcello |
| Puccini, Giacomo | Madama Butterfly | Sharpless |
| Puccini, Giacomo | Turandot | Ping |
| Schreker, Franz | Das Spielwerk und die Prinzessin | Meister Florian |
| Schönberg, Arnold | Moses und Aron | Ephraimit |
| Strauss, Richard | Die Frau ohne Schatten | Barak |
| Strauss, Richard | Salome | Jochanaan |
| Tschaikowski, Peter Iljitsch | Pikovaja Dama | Tomski |
| Verdi, Giuseppe | Attila | Ezio |
| Verdi, Giuseppe | I Vespri Siciliani | Monforte |
| Verdi, Giuseppe | La Traviata | Germont |
| Verdi, Giuseppe | Luisa Miller | Miller |
| Verdi, Giuseppe | Nabucco | Nabucco |
| Verdi, Giuseppe | Otello | Jago |
| Wagner, Richard | Lohengrin | Friedrich von Telramund, Heerrufer |
| Wagner, Richard | Tristan und Isolde | Kurwenal |
| | | |
REVIEWS
Opera House Graz - Lohengrin - TELRAMUND - October 2013
'Anton Keremidtcihev is an almost ideal Telramund.'
Der Opernfreund
'Anton Keremidtchiev, a robust count Telramund with a powerful voice, has an incredible stage presence full of wildness and pride.'
Kurier
'With his robust heroic baritone voice Anton Keremidtchiev sang a strong, but never rude Telramund'
Kleine Zeitung
'... intense Anton Keremidtchiev (as Friedrich von Telramund)'
Der Standard
Freibourg Theatre - Lohengrin - TELRAMUND - January 2013
his evening Telramund was sung by Anton Keremidtchiev. The guest from the ensemble of the German Opera Berlin perfectly familiarised in the staging and mastered the role both in its acting and its singing with bravura.'
Der neue Merker
Lohegrin - TELRAMUND - Opera de Toulon - February 2012
"Anton Keremidtchiev as Telramund is a worthy and convincing opponent..."
Concertonet
"The baritone Anton Keremidtchiev performs Telramund with a smooth, direct bass voice. Almost impossible to find a voice with more brilliance."
Anaclase
"With his beautiful, clear timbre Anton Keremidtchiev sings a sensible and touching Telramund."
Concertclassic
Parsifal - AMFORTAS - Budapest State Opera – April 2011
" Most impressive, however, was Bulgarian-born Anton Keremidtchiev as Amfortas. His repertoire also includes the role of Klingsor. With his mighty baritone voice, which clearly shows that he once started his bass carreer as a pupil of the legendary Boris Christoff, his stirringly lamentation thrilled every nerve of the audience. One can't but deeply recommend this likeable singer with his huge, excellently carried voice for Bayreuth."
Der Neue Merker
Lohengrin – TELRAMUND - Dortmund Opera House
"The sinister couple's diabolical be canto was just brilliant. Anton Keremidtchiev sang the precarious part of Telramund with dramatic aplomb, without disregarding the vocal line. Seldom the revenge duet was sung with such a sinister beauty…Anton Keremidtchiev's splendid interpretation of Friedrich is ripe for Bayreuth."
Der neue Merker
Parsifal - KLINGSOR - Richard Wagner Festival Wels - May 2008
"The Bulgarian-Italian baritone Anton Keremidtchiev was the Wagner-Grands' equal in every aspect."
Nachrichten.at
"Also very solid Anton Keremidtchiev as Klingsor."
Der Standard
"In his short performance, Anton Keremidtchiev was very convincing as the self-castrated meanie Klingsor."
Tageszeitung Österreich
ON STAGE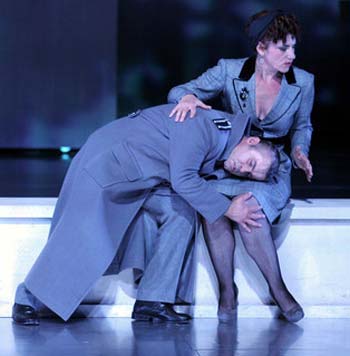 Nationaloper Bratislava - Lohengrin - TELRAMUND - 2013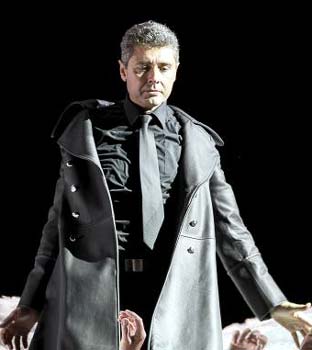 Opera House Graz - Lohengrin - TELRAMUND - October 2013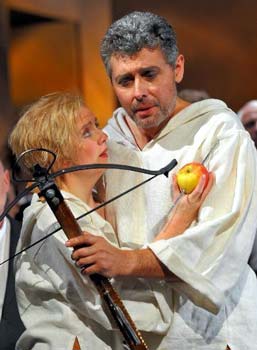 Pfalztheater Kaiserslautern - Wilhelm Tell - TELL