BIOGRAPHY

Swedish tenor Michael Weinius is one of the most sought-after dramatic tenors.

In the years 2021 and 22 Michael Weinius appeared as ERIK at the Opéra la Bastille, SIEGFRIED both in "Siegfried" and "Götterdämmerung" at the Wiener Staatsoper, LACA at the Norske Opera Oslo, SIEGFRIED at the Deutsche Oper am Rhein, BACCHUS at the Vlaamse Opera and the Royal Opera Stockholm, as well as TRISTAN at the Opernhaus Zürich and HERODESwith the Tokyo Symphony Orchestra.
As TRISTAN he also succeeded in Peter Sellar's successful production "Tristan und Isolde" with the Los Angeles Philharmonic Orchestra under the musical direction of Gustavo Dudamel.

2023 he also portrays TRISTAN at the Opéra National de Paris, with the Radio Symphony Orchestra Prague and the German Symphony Orchestra Berlin. As SIEGFRIED he returns to the Deutsche Oper am Rhein and also sings this very role at the Riga Cesis Art Festival. Future engagements take him a.o. as TRISTAN to the Deutsche Oper Berlin. He sings the GURRELIEDER with the Radio Symphony Orchestra Prague and Beethoven's 9th symphony with the Tokyo Philharmonic Orchestra. Besides, he makes his debut as TANNHÄUSER and OTELLO in 2024.

Besides, the Swedish artist performed at the Bayerische Staatsoper, Grand Théâtre de Genève, Oper Leipzig, Los Angeles Opera or Deutsche Oper in Berlin.

A celebrated Wagner singer, Michael excels for his interpretations of SIEGFRIED in "Siegfried" and "Götterdämmerung", SIEGMUND, TRISTAN, PARSIFAL or LOHENGRIN. Other prestigious roles include SAMSON (Samson et Dalila), MAO (Nixon in China), LACA (Jenufa), DON JOSÉ (Carmen) and the title roles in PETER GRIMES and OTELLO.

Michael Weinius' started his professional career with his debut as Guglielmo in "Così fan tutte" in 1993. Having sung as baritone before, he made his transition to tenor in 2004, debuting as LACA in "Jenufa".
In 2008, he was awarded with the First Prize of the Wagner Competition in Seattle and in 2010 he made his debut at the Opéra Bastille in Paris in the role of HANS SCHWALB in Hindemith's " Mathis der Maler". In the spring of 2012 he sang his first LOHENGRIN at the Royal Swedish Opera. Engagements in this very role at the Deutsche Oper Berlin, Wiener Staatsoper and as PARSIFAL at the Bavarian State Opera followed.
Michael Weiniusis also a very much sought-after soloist concert singer, performing works such as 'Gurrelieder' by Schönberg, Beethoven's 9th symphony, Mahler's 'Das Lied von der Erde' and 'The Dream of Gerontius' by Elgar.
Michael collaborates with such distinguished conductors as Esa Pekka Salonen, Kent Nagano, Axel Kober, Gianandrea Noseda, Christoph Eschenbach, Marek Janowski, Gustavo Dudamel, Donald Runnicles and Christian Thielemann, Peter Sellars, Claus Guth, Dietrich Hilsdorf, Keith Warner, Willy Decker, Alejo Pérez just to name a few.

The Scandinavian star was nominated Swedish Royal Court Singer in 2013 and received the royal medal Litteris and Artibus in 2022.
REVIEWS
Opéra de Paris – Tristan und Isolde - TRISTAN
Tristan was beautifully rendered in fully heroic operatic terms by Swedish heldentenor Michael Weinius, fulfilling as well the broad humanity of director Sellars' casting ethos.
Opera Today
operatoday.com
Los Angeles Philharmonic – Tristan und Isolde – TRISTAN
The singers, Swedish tenor Michael Weinius as Tristan and soprano Miina-Liisa Varela, threw themselves into the roles. Having no others to compare them to, I can say they were the best I ever heard;...
Forbes
forbes.com
Wiener Staatsoper - Siegfried - SIEGFRIED
The Swedish tenor Michael Weinius, who makes his role debut at the Vienna State Opera, isn't just an impressive figure: although a proper rowdy at the beginning, he sings the huge role with remarkable condition and performing power. Comedy inclusive.
Der Standard
www.derstandard.at
Deutsche Oper am Rhein - Walküre – SIEGMUND
The part of Siegmund was sung by the Swedish tenor Michael Weinius, who will also sing Siegfried in the Düsseldorf' Ring. Right from his entrance on stage in the first few notes "Wes Herd dies auch sei, hier muss ich rasten…" , Weinius attracted highly positive attention. He gave an outstanding, fantastic vocal performance.
His interpretation of the part is well conceived, absolutely fitting the Wälsingen's changing emotional condition. His exceptionally strong tenor voice doesn't show any sign of weakness, not even in the middle or low registers. Long slurs, dynamic differentiation, an extremely high expressiveness combined with a clear text articulation make it clear that he is one of the greatest heldentenor singers on stage today.
In the exposed parts of the first act, like "Ein Schwert verhiess mir der Vater, ich fänd' es in höchster Not…." Weinius develops the vocal sound with a tension arch. In "Wälse Wälse – Wo ist dein Schwert Das starke Schwert, das im Sturm ich schwänge, bricht mir hervor aus der Brust, was wütend das Herz noch hegt…" the entire tenoral brilliance of his voice erupts in a very splendid way. Most impressive how this heldentenor succeeds in vocally enacting all required dynamic possibilities, which arise from play and text. The encounter in the third act, fourth scene between Siegmund and Brünnhilde is an important musical moment of this opera. Weinius sings every single dynamical step of his questions addressed to Brünnhilde with an endless vocal line, high expression and fantastic tonal coloration. One can hear the hero's each emotion.
"Der dir nun folgt, wohin führst du den Helden….,In Walhalls Saal Walvater find' ich allein,…. Fänd' ich in Walhall Wälse, den eignen Vater,…. Grüsst mich in Walhall froh eine Frau,… Begleitet den Bruder die bräutliche Schwester Umfängt Siegmund Sieglinde dort" is incredibly touching, sending shivers down your spine. Also in his acting Michael Weinius presents a Wälsungen desperate at first, than bursting with energy and frantically convinced he can achieve everything with his twin sister Sieglinde. Defeated and betrayed by the father of gods, he falls to his knees. This evening, Michael Weinius became a true Siegmund and presented a top vocal performance.
Opernmagazin
www.opernmagazin.de
Already in an excerpt of the first act at his first Klangrausch-Concert in November 2011 I was really struck by him. "a Siegmund, who does not just make the best of the text, without letting his declamatory efforts affect his vocal line but who also attracted vocal attention with his slightly dark tenor voice that effortlessly reaches high notes." It was wonderful to experience that he also succeeds in singing the entire part on this high level without efforts. As I have written before, one would love to see him more often at the Rhine Opera and elsewhere in this repertoire.
Online Musik Magazin
www.omm.de
Grand Théâtre de Genève - Ring des Nibelungen - SIEGFRIED
Another major winner of the evening was Michael Weinius. Imposing stature, the singer portrays the role of Siegfried with quiet and complimentary perseverance. Should his voice be able to gain more brilliance and richness, he saved it for the strong moments in the Forge Scene and the Love Duet with Brünnhilde. There are powerful heights, adequately carried in the high registers. Weinius interpretation of the character is truly adorable. By the end of the opera, his initial qualities weren't reduced at all.
Olyrix
www.olyrix.com
Especially worth mentioning was the exceptional Siegfried by Michael Weinius, who truly shines with his sublime, sonorous, heroic voice without any stagnating or force: outrageously youthful, brilliant, sparkling in the high registers and velvety, dark and juicy in the middle with a magnificent diction. The Love Duet with Brünnhilde is simply splendid both with regard to the voices and the orchestra with its brilliant metals.
Bachtrack
www.bachtrack.com
Deutsche Oper am Rhein - Götterdämmerung - SIEGFRIED
Michael Weinius' Siegfried is also a revelation. With just a little edge but lots of character in his voice, that can produce brilliant heights on the right places. Anyway, the challenge in Siegfried's part are the nuances– changing from boisterousness to fear for the approaching death. His cultivated middle register is of use here.
WZ
www.wz.de
Bayerische Staatsoper München - Parsifal - PARSIFAL
Michael Weinius with his well-focused voice as Parsifal sang the part to the full and made a lasting impression especially in the second act.
Der Opernfreund
www.deropernfreund.de
Deutsche Oper am Rhein – Samson et Dalila - SAMSON
The couple of the evening were of course Michael Weinius with his steel tenor voice and Ramona Zaharia.
Terzwerk
www.terzwerk.de
Oper Leizig – Lohengrin - LOHENGRIN
The Swedish tenor Michael Weinius , rather a warrior king than a lover in the title part, in no way vocally yields to the philharmonic assaults of the Gewandhaus Orchestra.
NMZ
www.nmz.de
Staatstheater Kassel – Tristan ud Isolde - TRISTAN
It is admirable to see with which passion and vocal power Michael Weinius portrays Tristan's agonizing phantasies even in the ludicrous final scene.
HNA
www.hna.de
Royal Opera Stockholm – Batseba - DAVID
Michael Weinius played a dark David, dying of the load of royal dignity. All leading role voices are technically impeccable: perfectly balanced in all registers and yet powerfully resounding.
Operapoint
www.operapoint.com
ON STAGE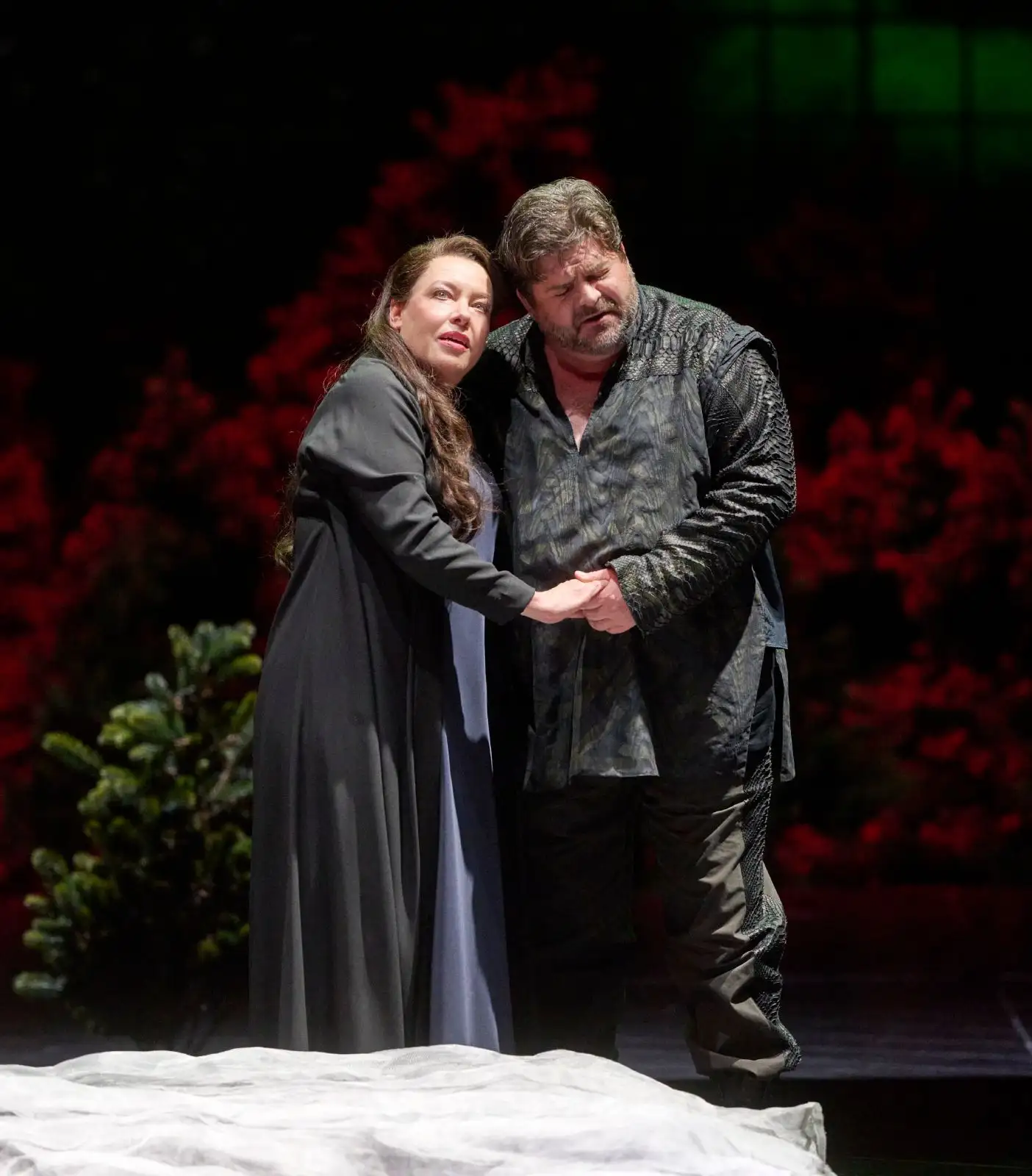 Wiener Staatsoper – Götterdämmerung – SIEGFRIED
Photo: Michael Pöhn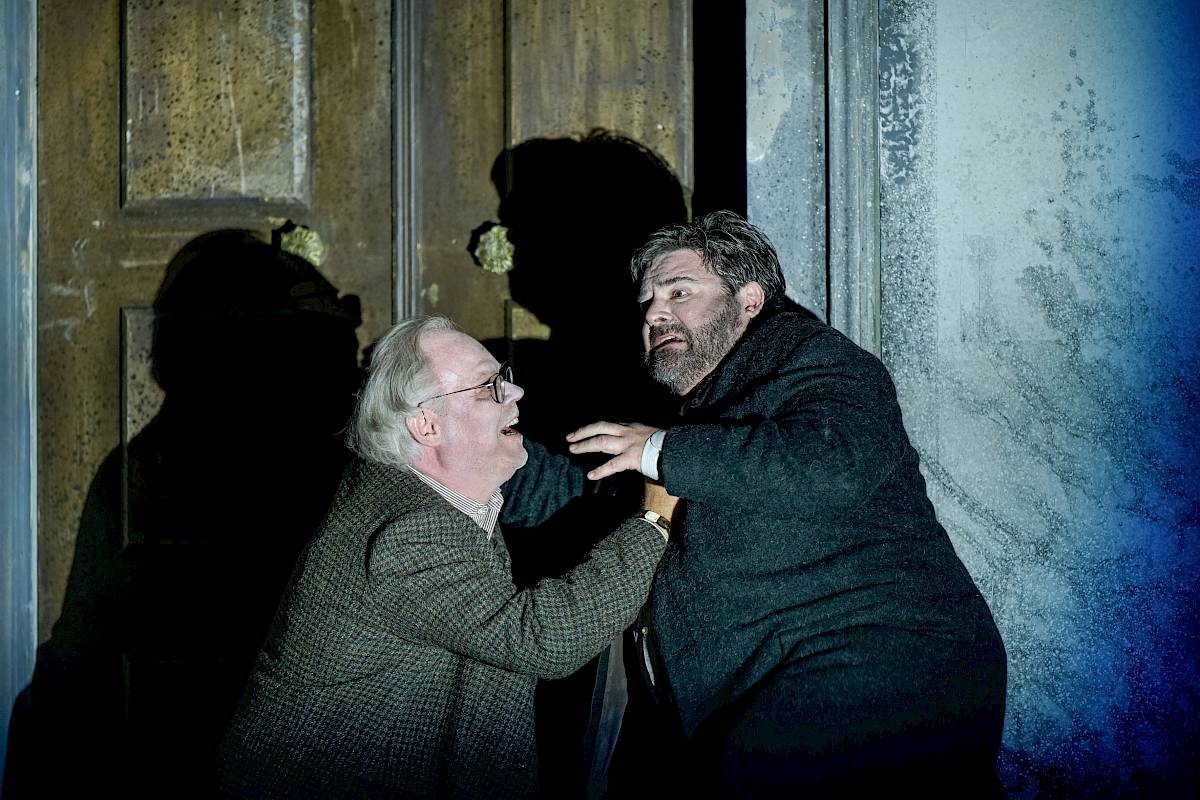 Opernhaus Zürich – Tristan und Isolde – TRISTAN
Photo: Toni Suter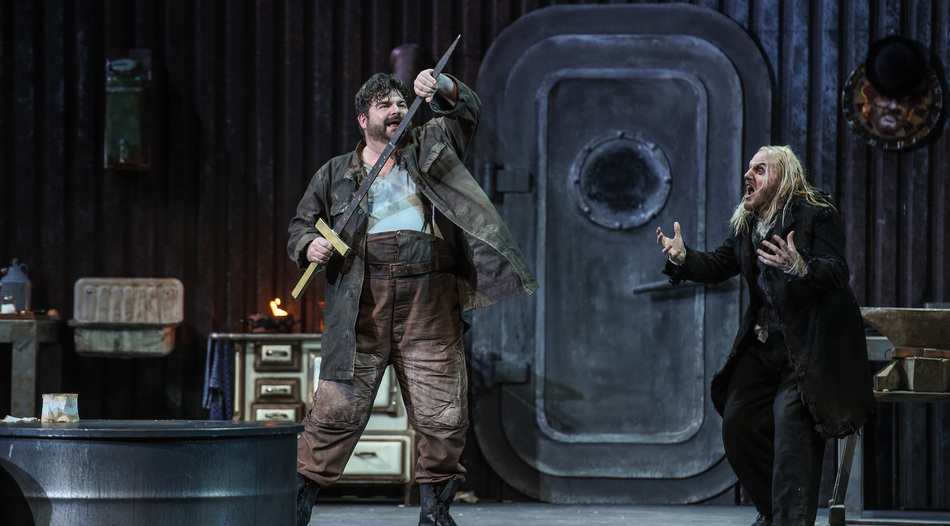 Deutsche Oper am Rhein - Siegfried - SIEGFRIED
Photo: Hans Jörg Michel
Deutsche Oper am Rhein - Siegfried - SIEGFRIED
Photo: Hans Jörg Michel
Deutsche Oper am Rhein – Samson et Dalila – SAMSON
Photo: Jochen Quast