Theodore Browne

Lyric Tenor
BIOGRAPHY

In the the season 2018/19 Theodore Browne sang FROH in Wagner's 'Das Rheingold' at the Pforzheim Theatre. Here, he also made his role debut as NEMORINO in Donizetti's 'L'elisir d'amore'.
2019/20 he succeeded as LINDORO in 'L'Italiana in Algeri' and as ALFRED in 'Die Fledermaus' at the Bern Concert Theatre. The productions 'I Barbieri di Siviglia' at the Dessau Theatre and at the Innsbruck Theatrewere cancelled due to the COVID19 pandemic. In the season 2021/2022 the tenor sings ALMAVIVA and TAMINO in 'Die Zauberflöte' in Innsbuck.

The only 27 years old tenor is the son of English and South-african parents. He grew up as a German native speaker in the German region Odenwald. At the tender age of 22 he made his debut as DON RAMIRO in Rossini's 'La Cenerantola' at the Bad Vilbeler Castle Festival. In summer 2015 he was COUNT STANISLAUS in Zeller's 'Der Vogelhändler' at the Eutin Festival and in summer 2016 he was re-engaged here as REMENDADO. At the beginning of the season 2017/18 he enjoyed successes as DON RAMIRO at the Rostock Popular Theatre and at the Augsburg Theatre he could also be seen as IDAMANTE in Mozart's 'Idomeneo'.

His soloist repertoire includes works by Bach, Händel and Mozart, but also Rossini, Donizetti, Britten and Tosti. He is sought-after concert singer, singing a.o at the Frankfurt Old Opera and at the Danzig Summer Festival.

The young lyrical tenor was born in Manchester and since October 2012 he is a student of Prof. Thomas Heyer's class at the Academy of Muci and Performing Art in Frankfurt/Main. At an early age he already gained experience, singing as an ensemble member or as soloist in several production of different genres e.g in 'Die Zauberflöte', 'A Midsummernight Dream', 'Lucia di Lammermoor', 'Götterdämmerung', 'Nabucco', 'Die Lustige Witwe' and ' La Forza del Destino'.

In 2014 Theodore Browne was the winner International Music Competition of the Acadamy and of Music and Dance Cologne and obtained the First Prize. Moreover, in 2016 he was awarded the Special Prize of the Berlin Federal Singing Contest and in 2018 he was the winner of the Mozart Society Prize at the Meistersinger Singing Contest in Nuremburg.
REVIEWS
Theater Pforzheim – Das Rheingold - FROH
Theodore Browne as fearless Froh in fakir dress made a strong impression in his first role in the ensemble.
Badische Neueste Nachrichten
In the other god roles Theodore Browne as Froh and Stamatia Gerothanasi impress with their fine voices.
Pforzheimer Zeitung
ON STAGE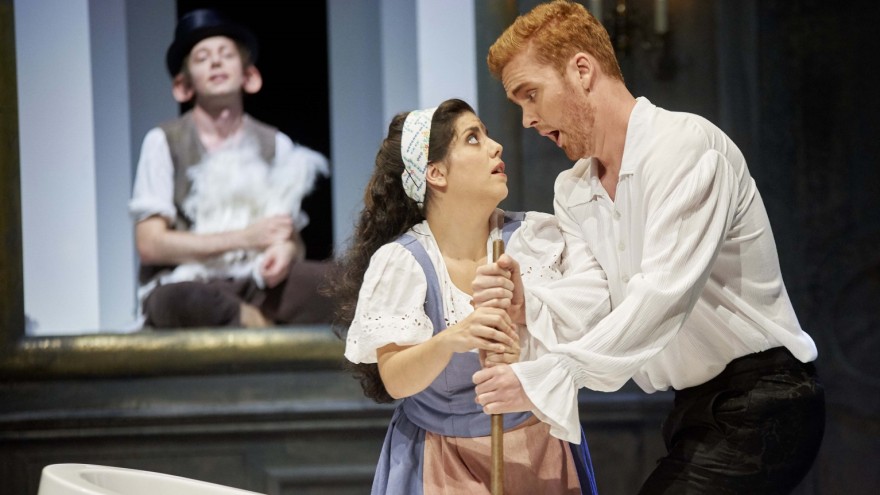 Volkstheater Rostock – La Cenerantola – DON RAMIRO